OSS 117 er en fransk bokserie på foreløpig 265 bøker, som handler om den amerikanske agenten Hubert Bonisseur La Bath. Serien ble skapt av den franske forfatteren Jean Bruce i 1949, og den første boken i serien var Tu parles d'une ingénue (Snakk om troskyldig). Etter Bruces død i 1963 tok hans enke, Josette, over pennen, før de siste bøkene ble skrevet av deres barn Francois og Martin.
de La Bath begynte som agent i amerikanske Office of Strategic Services (OSS) under andre verdenskrig, der han er nummer 117 (derav tittelen på serien). Han fortsatte senere i Central Intelligence Agency (CIA), og avslutter karrieren sin i National Security Council (NSC). de La Bath kom fra Louisiana i USA, men hadde franske aner, derav det franskklingende navnet.
de La Bath er inspirert av den virkelige OSS 117, William Leonard Langer, som Bruce traff ved frigjøringen av Lyon under andre verdenskrig.
OSS 117 var den første store suksessfulle spionserien i Frankrike. Jean Bruce skrev 88 OSS 117-romaner før sin død, og de solgte alle veldig bra. Men det var etter at hans enke tok over pennen i 1963, at interessen eksploderte. For på 60-tallet tok spionfeberen av, også i Frankrike. Bøkene ble etterhvert oversatt til 17 språk, og har solgt over 75 millioner eksemplarer. Josette Bruce skrev 149 bøker frem til 1985, da de to barna Francois og Martine tok over, og skrev 24 bøker mellom 1987 og 1992.
Den første OSS 117-filmen, OSS 177 n'est pas Mort, kom allerede i 1957, med Ivan Desny i hovedrollen. Mellom 1957 og 1971 ble det laget åtte OSS 117-filmer, med seks forskjellige skuespillere i rollen som de La Bath. Kerwin Mathews og Frederick Stafford spilte begge i to filmer, og har blitt mest kjent for rollen.
I samme periode ble det produsert tre filmer basert på OSS 117-romaner, men som ble skrevet om til å omhandle andre figurer, pga. rettighetstrøbbel.
I 2006 og 2009 kom det to OSS 117-filme med Jean Dujardin i hovedrolle, regissert av Michel Hazanavicious. Disse filmene er komedier, og er lagd som hyllester til spionfilmene fra 60-tallet.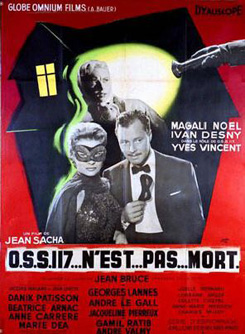 OSS 177 n'est pas mort (1957)
OSS 117 is not dead
Regi: Jean Sacha
Med: Ivan Desny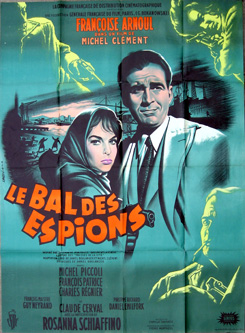 La bal des espions (1957)
Danger in the Middle East
Regi: Michel Clément & Umberto Scarpelli
Med: Michel Piccoli (som Brian Cannon)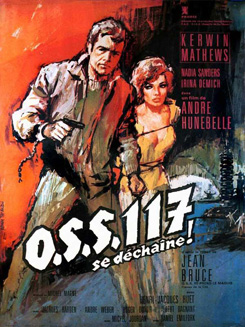 OSS 117 se déchaîne (1963)
O.S.S. 117 slår til
Regi: André Hunebelle
Med: Kerwin Mathews

Banco a Bangkok pour OSS 117 (1964)
Shadow of Evil/Panic in Bangkok
O.S.S. 117 i aksjon i Bangkok
Regi: André Hunebelle
Med: Kerwin Mathews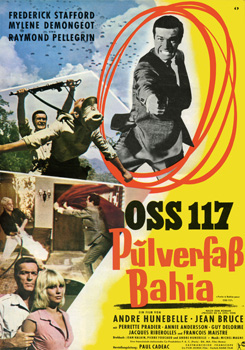 Furia a Bahia pour OSS 117 (1965)
OSS 117: Mission for a Killer
Agent O.S.S. 117 i Opprør i Bahia
Regi: André Hunebelle
Med: Frederick Stafford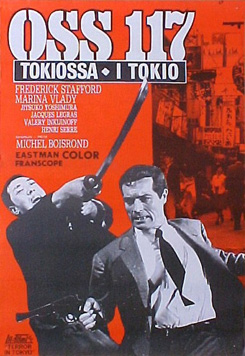 Atout coeur a Tokyo pour OSS 117 (1966)
Terror in Tokyo
OSS 117 terror i Tokio
Regi: Michel Boisrond
Med: Frederick Stafford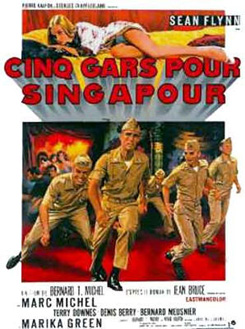 Cinq gars pour Singapour (1967)
Five Gays for Singapore
Spesialoppdrag i Sigapore
Regi: Michael Bernard Toublanc
Med: Sean Flynn (som Art Smith)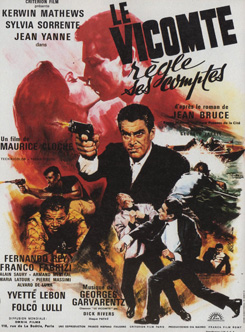 Le vicomte regle ses comptes (1967)
The Viscount
Regi: Maurice Cloche
Med: Kerwin Mathews (som Clint de La Roche)

Pas de roses pour OSS 117 (1968)
OSS 117 Double Agent
Regi: André Hunebelle
Med: John Gavin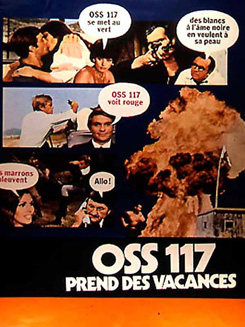 OSS 117 prend des vacances (1970)
OSS 117 Takes a Vacation
Regi: Pierre Kalfon
Med: Luc Merenda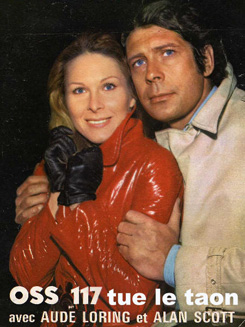 OSS 117 tue le taon (1971)
(TV-film)
Regi: André Leroux
Med: Alan Scott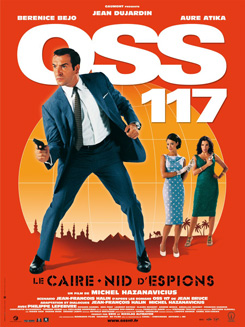 OSS 117: Le Caire nid d'espions (2006)
OSS 117: Cairo, Nest of Spies
Regi: Michel Hazanavicious
Med: Jean Dujardin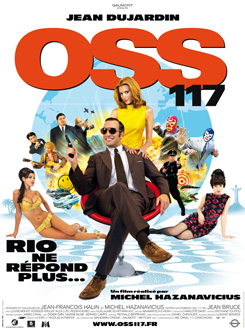 OSS 117: Rio ne répond plus (2009)
OSS 117: Lost in Rio
Regi: Michel Hazanavicious
Med: Jean Dujardin
Stikkord:
Eurospy
,
Hubert Bonisseur de La Bath
,
OSS 117