I årene 1991 og 1992 ble det produsert 65 episoder med opplevelsene til James Bonds nevø, James Bond Jr. James Bond Jr. er elev på Warfield Academy, en spesialskole for barn til hemmelige agenter. Her går han sammen med bl.a. Felix Leiters sønn Gordo og barnebarnet til Q, Horace Bootroyd som bare blir kalt I.Q. Ellers er skolen befolket av de vanlige figurene som vanligvis befolker amerikanske serier fra skolemiljøer.
Bond jr. og hans venner kommer ofte ut for forbryterorganisasjonen SCUM, Saboteurs and Criminals United in Mayhem, en organisasjon ledet av SCUM-Lord. De støter både på skurker kjent fra filmserier som Dr. No, Goldfinger og Jaws, samt nye skurker som Dr. Derange, Skullcap og Walker D. Plank. Eventyrene starter ofte med at S.C.U.M. er ute etter en av elevene på skolen, eller at Bond jr. snubler over et eventyr når han er på tur utenlands.
Serien ble skapt av bl.a. Bond-produsent Michale G. Wilson, i et forsøk på å nå en mye yngre målgruppe enn de som ble nådd med filmene. Dette er en serie produsert for barn og på TV, så kvaliteten på både historiene og tegningene er veldig midt på treet. Og siden episodene kun varer i litt over 20 minutter, er det vanskelig å få noe dybde inn i karakterene. TV-serien ble også ledsaget av en tegneserie på 12 utgaver, ti bøker, spill, actionfigurer og dataspill.
James Bond jr.-episoder
1. The Beginning
2. Earth Cracker
3. The Chameleon
4. Shifting Sands
5. Plunder Down Under
6. A Chilling Affair
7. Nothing to Play With
8. Location Danger
9. The Eiffel Missile
10. A Worm in the Apple
11. Valley of the Hungry Dunes
12. Pompeii and Circumstance
13. Never Give a Villain a Fair Shake
14. City of Gold
15. Never Lose Hope
16. No Such Loch
17. Appointment in Macau
18. Lamp of Darkness
19. Hostile Takeover
20. Cruise to Oblivion
21. A Race Against Disaster
22. The Inhuman Race
23. Live and Let's Dance
24. The Sword of Power
25. It's All in the Timing
26. Dance of the Toreadors
27. Fountain of Terror
28. The Emerald Key
29. Ship of Terror
30. Deadly Recall
31. Red Star One
32. Scottish Mist
33. The Art of Evil
34. The Heartbreak Caper
35. Mindfield
36. Leonardo da Vinci's Vault
37. Far Out West
38. Avalanche Run
39. Queen's Ransom
40. Barbella's Big Attraction
41. There for Ms. Fortune
42. Invaders from S.C.U.M.
43. Going for the Gold
44. A Derange Mind
45. Catching the Wave
46. Last of the Tooboos
47. S.C.U.M. on the Water
48. Goldie's Gold Scam
49. Canine Caper
50. Weather or Not
51. Ol' Man River
52. Between a Rock and a Hard Place
53. Sherlock IQ
54. Killer Asteroid
55. Danger Train
56. Quantum Diamonds
57. Rubies Aren't Forever
58. Garden of Evil
59. The Thing in the Ice
60. Goldie Finger at the End of the Rainbow
61. Dutch Treat
62. No Time to Lose
63. Monument to S.C.U.M.
64. Nothern Lights
65. Thor's Thunder
James Bond jr.-bøker
Bøkene er skrevet av John Peel og basert på episoder fra TV-serien
A View to a Thrill – Basert på episoden The Beginning
The Eiffel Target – Basert på episoden The Eiffel Missile
Live And Let's Dance – Basert på episoden med samme navn
Sandblast – Basert på episoden The Shifting Sands
Sword of Death – Basert på episoden Sword of Power
High Stakes – Basert på episoden There But For Mrs. Fortune
I tillegg ble det i Storbritannia utgitt fire bøker i Buzz Books-serien (en barnebokserie), med omskrevne historier fra TV-serien. Bøkene er skrevet av Caryn Jenner.
Tunnel of Doom – Basert på episoden Canine Caper
Barbella's Revenge – Basert på episoden Barbella's Big Attraction
Freeze Frame – Basert på episoden Weather or Not
Dangerous Games – Basert på episoden Catching the Wave
James Bond jr.-tegneserier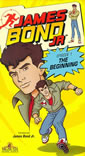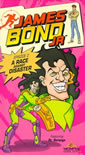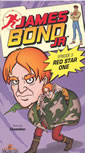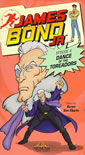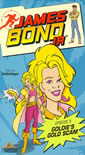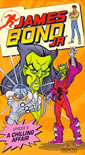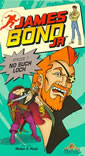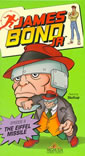 003½: The Adventures of James Bond Junior
James Bond jr. hadde også tidligere vært på eventyr. I 1967 ble det skrevet en ungdomsroman av psedonymet R. D. Mascott, utgitt av Bond-utgiverene Glidrose Publications. Boken følger Bonds nevø når han prøver å løse et bankran. Forfatteren bak psedonymet er fortsatt ikke avslørt.
Stikkord:
003 1/2
,
James Bond jr.
,
SCUM