Walter Ross, hemmelig agent 3S3, var hovedpersonen i to italienskproduserte spionfilmer i 1965 og 1966. George Ardisson spilte 3S3 i filmene. Kodenavnet 3S3 kommer av at han var den tredje agenten i den tredje spesialavdelingen.
I Agente 3S3: Passaporto per l'inferno/Passport to Hell (1965) er 3S3 på jakt etter Mr. A, som man tror styrer The Organization. Sammen med Mr. As datter tar han opp jakten, og oppdager at Mr. A er myrdet, og The Organization er styrt av hans mordere.
Agente 3S3: Massacro al sole/Hunter of the Unknown (1966) er en ikke helt vellykket oppfølger, og ser 3S3 bekjemper militæret på en karibisk øy.
Kriminalfilmen Omicidio per appuntamento/Date for a Murder (1967), der George Ardisson spiller en person kalt Vince Dreyser, ble markedsført i Tyskland som et 3S3-eventyr under tittelen Agent 3S3: Setzt alles aufeine Karte.
Tyske Der Fluch des schwarzen Rubin/13 Days To Die (1965) hadde den italienske tittelen Agente S3S: Operazione Uranio for å snylte på 3S3 sin popularitet (de gjorde det subtile trekket å byttet plass på 3 og S i agenttittelen). Men selve filmen handlet om den tyske pocketbokhelten Rolf Torring, her spilt av Thomas Alder.
Agent 3S3/S3S-filmer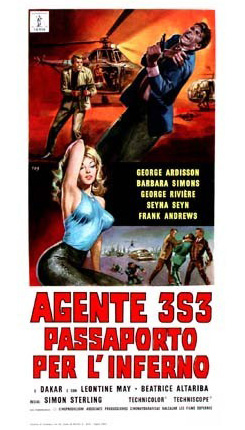 Agente 3S3: Passaporto per l'inferno(1965)
Passport To Hell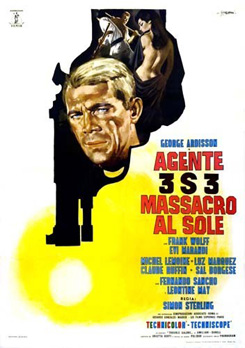 Agente 3S3: Massacro al sole (1966)
Hunter of the Unknown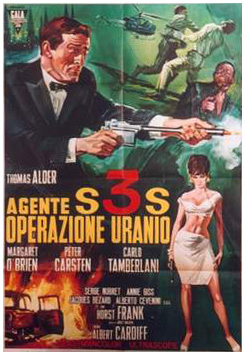 Der Fluch des schwarzen Rubin (1965)
13 Days To Die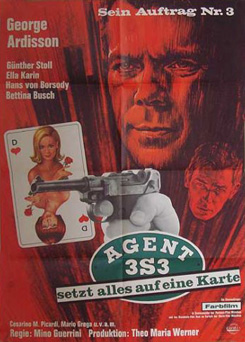 Omicidio per appuntamento(1967)
Date for a Murder
Stikkord:
3S3
,
Eurospy
,
Walter Ross