Da jeg til min store overraskelse oppdaget at jeg manglet de to første numrene av James Bond-tegnerserien The Quasimodo Gambit fra 1995, surfet jeg innom mine venner på eBay for å se om det var lett å få tak i de. Og det var det, selv om det var flest auksjoner på det siste nummeret, som jeg har. Men det var en annen auksjon som jeg fant mer interresant: En fin utgave av DC Showcase-utgaven av Doctor No fra 1963.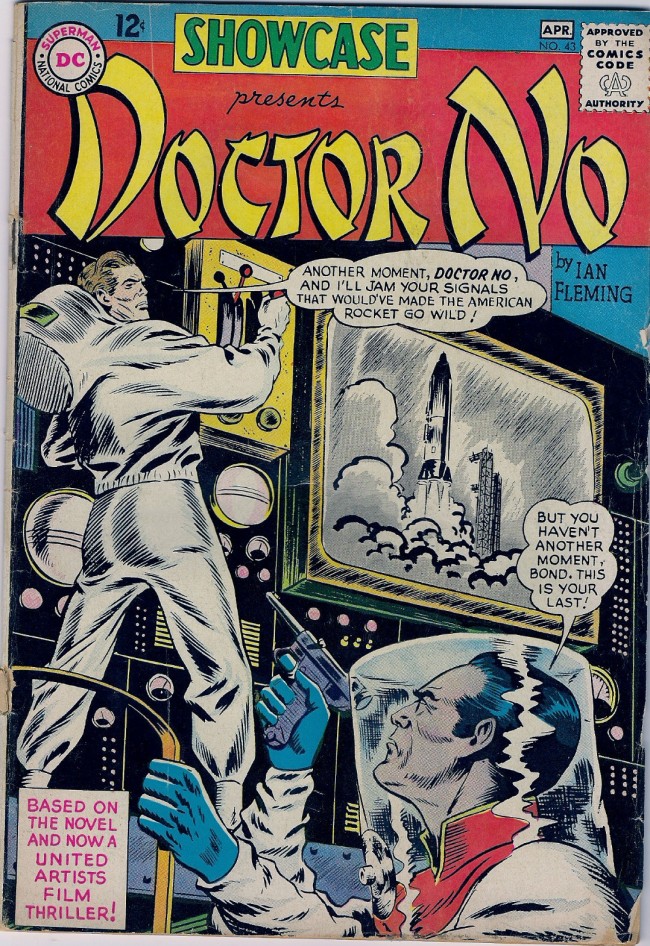 Dette er en tegneserie basert på filmmanuset til filmen Dr No fra 1962, og ble først publisert i Storbritannia som en utgave av Classics Illustrated (Illustrerte klassikere). Forlaget hadde ikke rettigheter til å utgi den i USA, så der ble den utgitt av DC Comics, som en del av deres Showcase-serie. Den solgte visstnok ikke så veldig godt, og er den eneste James Bond-utgaven fra DC.
Serien kom forøvrig ut på norsk i 1963, som nummer 6 av Detektivserien, utgitt av Illustrerte Klassikere A/S.
Da jeg først så auksjonen lå det øverste budet på rundt $20, og der holdt det seg frem til omtrent et døgn før auksjonen gikk ut, da den gjennom noen bud gikk opp til $45. Jeg var med opp til $80, et bud som holdt seg frem til to stykken bød opp prisen til $135,49 (ca kr. 750) rett før auksjonen gikk ut. Og det er ikke en alt for skummel pris: Og det er greit å vite hvor man kan risikere å betale for en utgave.
Det ligger ute to andre Doctor No-auksjoner akkurat nå. En der midtsiden av bladet er løst, og en der ryggen er revet. Blir spennende å se hva ikke perfekte numre går for.