Innspillingen av The Man From U.N.C.L.E. har nettopp startet, og foregår nå i Italia. Dette er en reboot (omstart?) av The Man From U.N.C.L.E.-serien fra 60-tallet. Filmen har hatt en trang fødsel, og da jeg først hørte om den for noen år siden, var det med Steven Soderbergh bak kamera. Han forsvant, det samme gjorde George Clooney i rollen som Napoleon Solo, da han ikke var fornøyd med budsjettet, og ble til slutt erstattet av Guy Ritchie. Tom Cruise kom inn som Solo, før han tuslet ut for å konsentrere seg om en ny Mission:Impossible-film. I mellmtiden hadde Arnie Hammer fått rollen som Illya Kuryakin. Rollen som Solo gikk til slutt til Henry Cavill, og Hugh Grant tok rollen som Waverly.
Vet ikke helt hva jeg forventer av filmen. De har holdt seg til 60-tallet serien befant seg i, og jeg ville vært mer begeistret for en sjangerfilm fra Soderbergh. Litt mer skeptisk til Ritchie. Mye bra med Sherlock Holmes-filmene hans, men grunnen til å se de er Robert Downey jr. og Jude Law, ikke nødvendigvis jobben hans bak kamera. Håper selvfølgelig å bli overrasket. Har heller ikke helt troen på Hammer og Cavill som dynamisk agentduo. Men Grant som Waverly kan bli gøy. Og Jared Harris har også en rolle, vet ikke som hvem, og han er som regel ekkelt god.
Og mens innspillingen kom jeg tilfeldigvis over tre norske Mannen fra U.N.C.L.E.-bøker. Var ikke klar over at de hadde blitt utgitt på norsk, men bøkene jeg fant var nr. 9, 16, og 18 i serien. Bøkene er oversatte historier fra den amerikanske bokserien med U.N.C.L.E.-bøker, men numrene stemmer ikke overens. Bøkene ble utgitt av Forlaget for alle A/S på slutten av 60-tallet.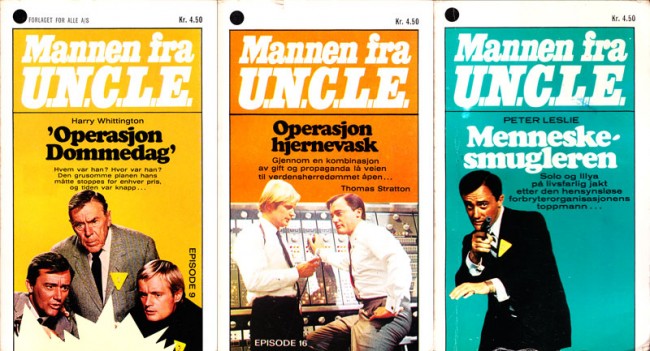 Stikkord:
Mannen fra U.N.C.L.E.
,
The Man From U.N.C.L.E.