Domino Petachi (Kim Basinger)
Domino er Largos elskerinne og søsteren til kaptein Jack Petachi. Er skremt av Largos stadig mer bisarre oppførsel, og faller for Bond etter at han utgir seg for å være massøren hennes på en spa. Når Bond senere vinner over Largo i hans eget dataspill Domination (en blanding av Risk og Battleship), avslår han pengene de spilte om, mot en dans med Domino. Og under tangoen de danser, forteller Bond henne at broren er død og at hovedmistenkt er Largo. Etter at Largo har sett Bond og Domino kysse, etterlater han henne i Nord-Afrika i hendene på en slavehandler. Men Bond redder henne og får henne i trygghet. I filmen klimaks, der Bond og Largo slåss under vann, redder hun Bond ved å skyte Largo med en harpun.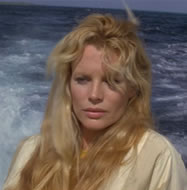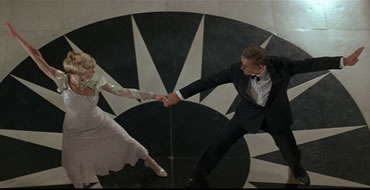 Nicole – Agent 326 (Saskia Cohen Tanugi)
Bonds kontakt i Nice. Blir kvalt av Fatima Blush, og etterlatt i Bonds vannseng.
Patricia Fearing (Prunella Gee)
Fearing er pleier på Shrublands, helsebadet der Bond blir sendt av M. Bond forfører Fearing med en koffert fylt med gourmetmat.
Lady in the Bahamas (Valerie Leon) 
Sportsfisker som får Bond på kroken etter at han har sluppet unna de radiostyrte haiene til Fatima Blush. Bond er i hennes seng da bomben Blush har plassert i hans hotellrom går av.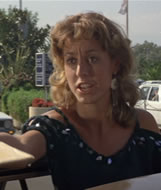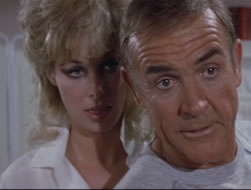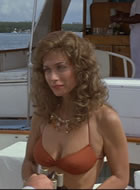 Fra venstre: Nicole, Patricia Fearing og Lady in the Bahamas
Miss Moneypenny (Pamela Salem)
Det har tydligvis vært stille og kjedelig vært Bond, for Moneypenny er svært begeistret for at han er tibake i tjeneste. Blir opriktig bekymret over at Bond har blitt sendt til Shrublands for å bekjempe alle frie radikaler.