Felix Leiter (David Hedison)
Bonds kontakt i USA. Blir aldri sjokkert over alle ødeleggelsene Bond etterlater seg, men godtar det med stille resignasjon.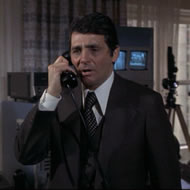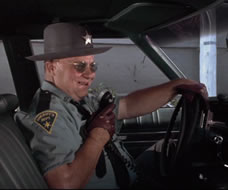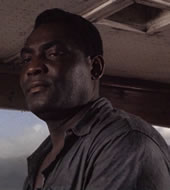 Fra venstre: Felix Leiter, Sheriff J W Pepper og Quarrel jr
Sheriff J W Pepper (Clifton James)
Sørstatssheriff som prøver å huke Adam for råkjøring. Får bilen sin smadret av en av Kanangas båter når Bond og hans forfølgere passerer de. Adam rømmer, og Pepper får hjelp av flere politifolk til å stoppe disse "svarte kommunistene". Prøver å få hjelp av sin svoger Billy Bob, som har den raskeste båten i staten. Når båtjakten ender vil Pepper arrestere Bond, og når han får vite at Bond er hemmelig agent, utbryter han "A secret agent? On whose side?". Dukket også opp i The Man With The Golden Gun (1975).
Quarrel jr (Roy Stewart)
Sønn av Quarrel, som vi så i Dr. No (1962). Det blir ikke nevnt slektskapet, men Quarrel jobber også i CIA og opptrer som fisker. Frakter Bond og Carver til San Monique første gang, og hjelper Bond med å minelegge Kanangas opiumåker.
Harold Strutter (Lon Satton)
CIA-agent som følger etter Bond til Harlem der han blir tatt til fange første gang og hjelper Bond å komme seg vekk. Blir drept av samme begravelsefølge som drepte Hamilton i begynnelsen av filmen.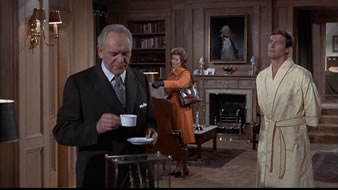 Fra venstre: Strutter og M og Moneypenny hjemme hos Bond
M (Bernard Lee)
Oppsøker Bond midt på natten (som starter et desperat forsøk fra Bond i å skjule Caruso, som ikke skulle ha vært der). Får ikke delta i en stor del av filmen, men rekker å uttrykke sin misnøye ovenfor for Bonds cappuccino maskin.
Miss Moneypenny (Lois Maxwell)
Følger etter M på besøk hos Bond. Hjelper Caruso å gjemme seg for M inne i et klesskap.