George Lazenby ble født 5. september 1939 i Goulborn, en liten by i Australia. Foreldrene flyttet til Edinburgh mens George var liten, og han tilbragte oppveksten sin der.
Da Lazenby var 24, flyttet han til London og fikk jobb som bilselger. Men ved et lykketreff solgte han en bil til en fotograf som igjen overtalte Lazenby til å prøve seg som modell. Etter en tid som modell, både i annonser og reklamefilmer, fikk han også roller i diverse britiske TV-serier.
Til tross for svært begrensede skuespiller erfaring, ble han valgt ut til å overta James Bond-rollen etter Sean Connery, som hadde takket nei til videre filming i 1967. Han fikk rollen etter en overbevisende prøvefilming og utifra sitt gode utseende.
Lazenby takket nei til flere Bond-filmer etter sin ene opptreden, og satset heller på en karriere i Hong Kong. Dette gikk ikke helt etter planen. Han fikk en avtale på å spille i fire Bruce Lee-filmer, men desverre døde Lee like etter, og filmene ble ikke noen suksesser utan han.
En periode oppga han også skuespillerkarrieren for å satse som racerbilsjåfør. Han har siden dukket opp i en rekke roller på TV og film, uten å nå de store høydene.
Lazenby har vært gift to ganger. Først med Christina Gannett mellom 1971 og 1995, og så med den tidligere tennisspilleren Pam Shriever mellom 2002 og 2008. Lazenby fikk to barn med Gannett (Melanie og Zack, sistnevnte døde av hjernesvulst), og tre med Shriever (George. jr (2004) og tvillingene Kate og Sam (2005)).
George Lazenby har spilt James Bond i denne filmen: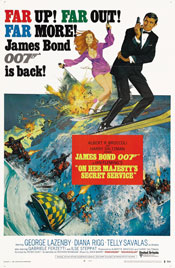 Stikkord:
George Lazenby