Roger Moore ble født 14. oktober 1927 i London, som eneste sønn til en husmor og en politimann. Moore gjorde sin filmdebut som 17-åring i 1945, i filmen Cæsar og Cleopatra. To år senere ble han kalt inn i militæret, der han endte som kaptein på et militærdepot i Vest Tyskland.
Etter militæret, jobbet Moore som modell og smårolleskuespiller. Han fikk kontrakt med MGMG, men han ble ingen stor suksess der. Men han gjorde det bedre på TV, med hovedrollen i TV-versjonen av Ivanhoe og en rolle i westerserien Maverick.
I 1961 fikk hovedrollen i TV-serien The Saint (Helgenen), som gikk i seks sesonger, og gjorde Moore til stjerne på begge sider av Atlanteren. Etter 118 episoder ville Moore vise at han kunne spille noe annet enn Simon Temple, og hoppet av. Dramafilmen The Man Who Haunted Himself, som han spilte inn året etter ble ingen stor suksess, men bir i dag regnet som en av Moores beste roller.
I 1971 gikk Moore tilbake til TV og en gullkantet avtale med The Persuaders (Gullguttene), der han spilte mot Tony Curtis. Serien slo ikke an i USA, men ble populær i Europa og Australia. Etter 24 episoder ble det stopp.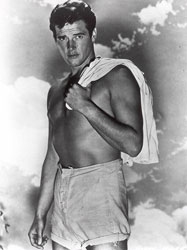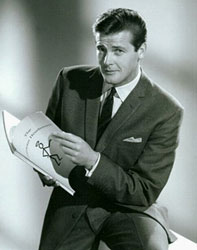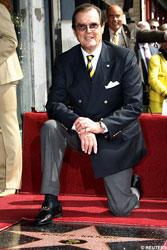 Mellom 1973 og 1985 hadde Moore rollen som James Bond, i syv filmer. Han ga Bond et litt lettere uttrykk enn sine forgjengere, og gjorde Bond til sin egen. Mellom Bond-filmene spilte han også inn tretten andre filmer. De mest kjente er Gold fra 1974, Cannonball Run (1981) og Curse of the Pink Panther (1983).
Etter Bond har ikke Moore vært like aktiv foran kamera. Under innspillingen av Octopussy i 1983 ble han involvert med UNICEF i India, og har siden jobbet som UNICEF-ambassadør. For dette arbeidet har han fått tildelt en Commander of the British Empire (CBE) i 1999 og Knight Commander of the Order of the British Empire (KBE). I 2000 ble han også tildelt prisen International Humanitarian Award fra London Vartiety Club.
Moore har alltid vært en damenes mann, og har per dags dato rukket å ha vært gift fire og skilt tre ganger, og har fått tre barn. Han er nå gift med danske Kristina Tholstrup.
Besøk Roger Moore sin hjemmeside.
Roger Moore har spilt James Bond i disse filmene:
Roger Moore