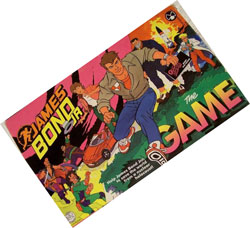 Utgivelsesår: 1995
Utgiver:
Designere:
Antall spillere: 3 – 6
Beskrivelse:
Strategispill basert på James Bond jr. TV-serien.
Tekst på boksen
Take part in James Bond junior's greatest adventure and try to save the world from the threat of nuclear catastrophe. James and his friends battle with the likes of jaws and Odd Job – will they save the world or will the forces of evil win the day? An excitng game of strategy, luck and courage using secret documents to see who has the greatest intelligence, skill and strength.
Stikkord:
James Bond jr.