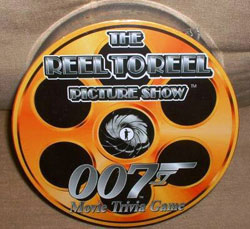 Utgivelsesår: 1995
Utgiver: Daisy Reel Productions Inc
Designere: –
Antall spillere: 2 – 4
Beskrivelse:
007 Movie Trivia Game er basert på det originale The Reel to Reel Picture Show. Spillet kan enten spilles sammen med originalen, eller som et frittstående spill. Spillet har over 1400 spørsmål i fire forskjellige vannskelighetsgrader. Spillerene konkurrerer om å svare riktig på et visst antall spørsmål i hver kategori.
Tekst på boksen
Packed with Bond trivia. Over 1400 questions.
SPILLBILDER: