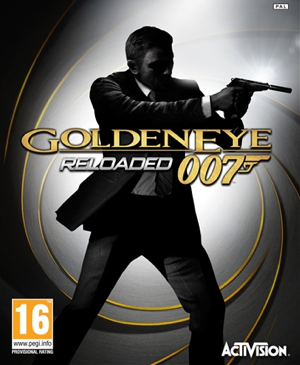 Utgivelsesår: 2011
Utvikler: Eurocom
Utgiver: Activision
Platform: Playstation 3, Xbox 360
GoldenEye 007: Reloaded er en oppdatering av oppdateringen av GoldenEye 007 fra 1997. Spillet var opprinnelig designet til Nintendo 64, og var en suksess for denne plattformen. I 2010 kom det en oppdatering av spilet som var eksklusiv for Nintendo (Wii og DS).
Reloaded-versjonen er skalert opp til grafikkmotorene til PS3 og Xbox 360, og er tilpasset belønningsystemene deres.
Det er både et ekstra singelplayer og et ekstra multiplayer mode, henholdvis MI6 OPS Missions og Escalation.
Figurene Max Zorin (A View To A Kill), Auric Goldfinger (Goldfinger), Dr Kananga (Live And Let Die), og Tee Hee (Live And Let Die) er lagt til. I tillegg følger Hugo Drax (Moonraker)  med PS3-versjonen. Pussy Galore (Goldfinger) og Emilo Largo (Thunderball) kan lastes ned.
Stikkord:
Daniel Craig
,
GoldenEye